Fiona welcomed 74 members and 2 guests. She also reminded everyone about our Summer Picnic on Saturday, 19th August and hoped a few more will sign up as it is a lovely afternoon where we have the opportunity to enjoy lovely food, have a drink and get to know each other – friends/partners welcome.
Sutton College
Fiona said that as part of being a WI member is about educating women she had been in touch with the Principal at Sutton College who has kindly agreed to run 3 workshops and a "talk" for our WI in October. In order to ascertain which workshops and talk is the most popular, members were asked to tick 3 of 5 workshops and 1 talk and we would go with the most popular.
The outcome for workshops is:
Painting – watercolours 14
Creative drawing 17
Wildlife and nature photography 24
Introduction to floristry 27
Jewellery Workshop 35
The outcome for the talks is:
Salvador Dali 23
James I and the English Witch Hunt 34
Resolutions and Proposals for 2018:
Lys went on to mention that at the NFWI Annual Meeting in June delegates voted to pass two resolutions, End Plastic Soup and Alleviating Loneliness, which will both now form the basis of new NFWI campaigns.
Submissions for the 2017/18 resolutions process are now open! Any member can propose a resolution for consideration – simply complete a submission form by hand or online, and remember to read the guidance notes! So if you feel inspired to submit a resolution on an issue that you feel passionately about please click on link below for further details. A range of other useful resources can also be found to support your submission. Closing date for resolutions to be submitted to the NFWI is 15th September.
https://www.thewi.org.uk/campaigns/resolutions-and-mandates
SFWI Centenary:
Lys mentioned the 100th anniversary of Surrey Federation of WIs which happens next year. They are inviting every WI in the federation to produce a double page entry for the Centenary Record Book. We have the written history page of our WI covered but would like members to produce a page showing a craft work representation. It can be created in pastel, charcoal, water colour (not oil), pen and ink, fabric, needlework (no raised work e.g stumpwork, beads, buttons) or photography. PLEASE NOTE special acid-free paper and photographic paper has to be used for artwork and photos (please contact Lys (020 8946 7248) for this special template paper which has 35mm border). To ensure consistency all work should be the size of H227mm x W140mm (portrait orientated) and un-mounted. We know we have some very talented members and hope you will take part – all entries have to be in at or before our September meeting when we will vote for the winning entry.
Lifts for members:
Lys mentioned that she had had a good response from members offering lifts to those who find it difficult to get to our meetings. So please let us know if you would like a lift to and from our meetings and we will do our best to arrange this. Similarly, if you are able to offer lifts, we would like to hear from you too. Thank you.
Events:
Gillian mentioned that in September there will be a board in the foyer about forthcoming events so members can see at a glance what will be coming up and lessen the congestion around the booking table. At present there are places for the following;
Wimbledon WI Picnic, Saturday, 19th August (£10) partners/friends welcome
Charterhouse, Clerkenwell Saturday, 23rd September (£15)
Masonic Lodge, Covent Garden, Thursday, 5th October
Waddesdon Manor Thursday, 23rd November to visit house, garden and Christmas market (£26)
Christmas Dinner, Taste Restaurant, Wednesday, 6th December (£29.95)
Please contact Gillian if you would like to go to any of above.
Grenfell Tower:
Gothic Valley WI in solidarity with Grenfell Tower asked WIs to knit and crochet yellow hearts. The colour yellow is internationally recognised as a symbol of the missing and many people in and around the Grenfell site have adopted this to represent those that they have lost in the fire. Local residents started to tie ribbons around trees and fence posts to remember those in the community who they have lost. Gothic Valley asked for yellow hearts so that they could be added to the area to bring about a feeling of love and, above all, support.
These hearts had to be in by Sunday 2nd July so that they could be attached to fences, light posts, trees etc on the evening of Monday 3rd July. This was so they could be seen by the residents when they awoke on Tuesday, 4th. There was no time to put out a request but a few members from both Wimbledon WI and Morden WI managed to make some and Eileen sent them off. See report on link below
http://behindthedoorof104.blogspot.co.uk/2017/07/yellow-ribbons-hearts-for-grenfell-wi.html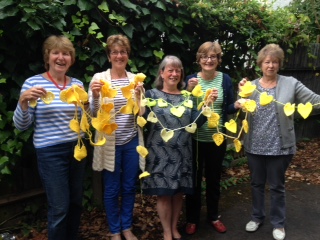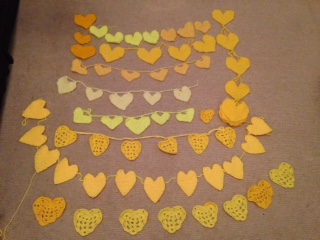 Speaker for the evening
A Talk on: "100 years of the WI: The acceptable face of feminism". Professor Maggie Andrews talked about some of the key campaigns and concerns of the Women's Institute, from its origins in the First World War to the 1950s when, with half a million members, it was firmly established as the largest women's organisation in Britain. Maggie is a Professor of Cultural History at the University of Worcester; she has published widely on women, domesticity and the home front in 20th century Britain. See following link for more information
https://www.thewi.org.uk/campaigns/news-and-events/current-news-and-events/the-wi-at-100
Diary Dates
Next meeting 18th September – Talk by Mel Rees – "My family and other setbacks". Book sale and jigsaw swap (you don't need to bring in a jigsaw to swap).
Edenbridge & Oxted Agricultural Show – Sunday 27th and Bank Holiday Monday, 28th August.
NFWI AGM 6th June 2018 Cardiff
We wish you all a lovely summer until we meet again in September and hope to see a lot of you at our picnic on 19th August (contact Gillian for details).
The committee