Twelve of us met up in Hampstead to visit the NT property at 2 Willow Road. It's one of three residences in a block designed by the Hungarian architect Erno Goldfinger in 1939 for his private home. It's a building clad in brick, not the usual white rendering we're used to seeing on Modernist buildings.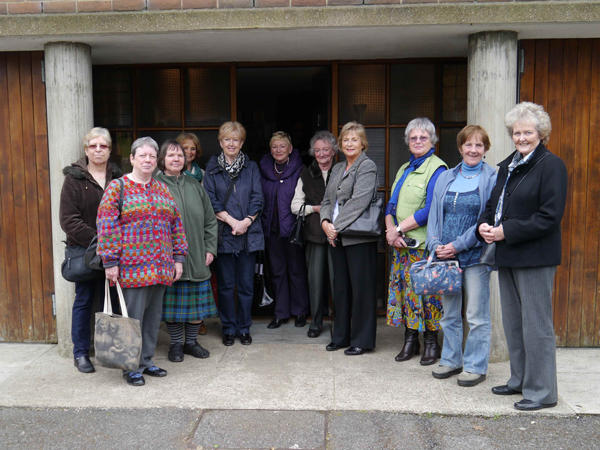 The building replaced a row of Victorian cottages and there was heated local opposition to their demolition. Among the local residents was Ian Fleming who took such a great dislike to Goldfinger that he named one of his James Bond villains after him.
We watched an introductory film in what used to be the garage before having a very informative tour. The whole house is thoughtfully designed to make the best use of space and light, with movable panels and folding doors to make the maximum space for entertaining, and a lovely ceiling light-well which floods light into an otherwise small quite oppressive landing.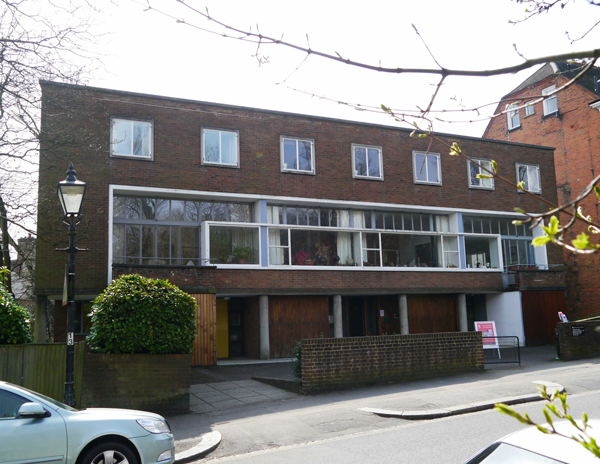 We were all especially interested in the tiny kitchen where Erno's wife Ursula (née Blackwell from the Cross and Blackwell dynasty) used to make many meals for dinner parties. All the original packets were still in the kitchen cupboards and we tried to imagine just how she managed in such a tiny space. In comparison Erno had a rather grand spacious office to work in.
Also interesting was the bespoke furniture throughout the house, the books and ornaments still in situ and the surrealist display of objects in the glass wall by the front door. One of the compartments holds the letters which come through the letter box so the letters themselves become art.
Among the objects was a hopelessly elaborate candelabra and a Staffordshire pottery ornament left there from the time when Goldfinger's mother came to stay; a surrealist statement amongst otherwise modern furnishings.
Goldfinger's collection of modern art is still on display and includes work by Fernand Leger, Henry Moore, Roland Penrose, Max Ernst and Bridget Riley, not forgetting work by Ursula who was herself an artist.
After our visit we walked back into the centre of Hampstead for lunch. The sun came out and it was warm enough for some of us to take off our coats and to enjoy lunch al fresco!
Annette